Events Diary
To have items posted here please email
website editor: Nigel Suckling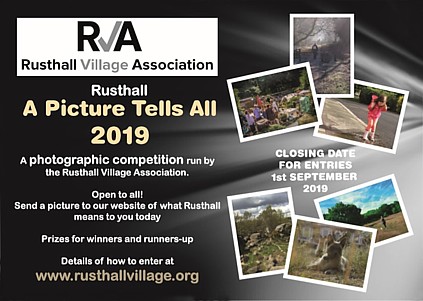 Click on the picture above for details
The Battle of Britain and an Unexpected Hero
Lecture by popular historian and author Dr Helen Doe
At The Bridge Club, 40 London Road, Tunbridge Wells, Kent, TN1 1DL
Saturday 14 September: 1400-1500
The story of a gardener's son who overcame his personal doubts about his abilities to become one of the top five aces in the Battle of Britain. Bob Doe thought he was the worst pilot in the squadron and destined for an early grave, but showed his skill in his squadron's first serious encounter with the Luftwaffe. This is a story, not just about Bob, but also a tribute to those men who flew in battle in the skies over Southern England in 1940.
Click HERE for further details.
St. Paul's Church, Rusthall, Services for Sunday 8.00 am Holy Communion 10.00 am Parish Eucharist with Baptism, 5.30 pm Junior Choral Evensong.
Church Centre 10.00 am Family Service, 4.00 pm Taize Service.

Playplace
are recruiting a Nursery Manager to work in Rusthall
Must be qualified min. Level 3 Early Tears/Playwork. Term time/Flexi hours
Free childcare for staff
For further information contact info@playplace.org or ring Rose on 07985 771045
Rusthall Community & Youth Project are looking for active adult and young adult volunteers to deliver youth activities for their two youth groups. Previous experience would really help, although we have a training package for those that are wishing to start out in youth work. Give a call to Chris or Mike Bassett on 01892 543544 for further information.
The Molyneux Almshouses in Rusthall are recruiting a new Trustee. For details on the Parish Council website click HERE.
Rusthall Community Cinema
FREE Film Festival Weekend
Saturday 24th August 2.30 pm
Mary Poppins Returns (2018) (including Singalong subtitles)
Cast Includes: Emily Blunt, Lin-Manuel Miranda, Ben Whishaw
Sadly, the little house on Cherry Tree Lane and the grown-up siblings, Michael and Jane Banks, are facing hard times, during the worldwide 1930s Great Slump. However--against the backdrop of a terrible tragedy and imminent foreclosure--once more, the beloved and nearly perfect nanny, Mary Poppins, descends from the skies to lend a hand.
Saturday 24th August 7 pm
The Intouchables (2011) with English closed captioning
Cast Includes: François Cluzet, Omar Sy, Anne Le Ny
In Paris, the aristocratic and intellectual Philippe is a quadriplegic millionaire who is interviewing candidates for the position of his carer, with his red-haired secretary Magalie. Out of the blue, Driss cuts the line of candidates and brings a document from the Social Security and asks Phillipe to sign it to prove that he is seeking a job position so he can receive his unemployment benefit. Philippe challenges Driss, offering him a trial period of one month to gain experience helping him. Then Driss can decide whether he would like to stay with him or not. Driss accepts the challenge and moves to the mansion, changing the boring life of Phillipe and his employees.
Sunday 25th August 2 pm
Singin' in the Rain (1952)
Cast Includes: Gene Kelly, Donald O'Connor, Debbie Reynolds
1927: Don Lockwood and Lina Lamont are the darlings of the silent silver screen. Offscreen, Don, aided by his happy-go-lucky friend and piano accompanist, Cosmo Brown, has to dodge Lina's romantic overtures, especially when he falls for chorus girl Kathy Selden. With the advent of sound in motion pictures, it is decided to turn Don and Lina's new film into a "talkie" and a musical at that. The only problem is Lina's voice, which mere words cannot describe. Thus, Kathy is brought on to dub her speaking and singing voice in secret, and Don's on top of the world. But then Lina finds out...
Macmillan Coffee Morning at Rusthall Library on Thursday 12 September 10.00 -12.30.
BADMINTON
Friendly non league club looking for new players of all abilities. Meets Friday's 8pm -10pm at Holmewood House School Langton Green. Four courts available, pay and play, no membership fee. Come along or for more information call 01892 530716.
Tonbridge & Malling Ramblers have many local walks and further information can be found on their website tonbridgeandmallingramblers.org.uk
Police Community Support Officer
Here is the email for our PCSO Matthew Hill matthew.hill@kent.pnn.police.uk However, if you have been victim of a crime, it is always best to still contact the Police via 999 (if an emergency), or 101 or the Kent Police website.