Events Diary
To have items posted here please email
website editor: Nigel Suckling
Rusthall Community Cinema's next showing on Saturday 19th October 2019 is Wild Rose (2018) (Cert 15)
Director:Tom Harper
Genre: Drama, Music
Cast Includes: Jessie Buckley, Matt Costello, Jane Patterson
Rose-Lynn Harlan, played by BAFTA Rising Star nominee Jessie Buckley (Beast), is bursting with raw talent, charisma and cheek. Fresh out of jail and with two young kids, all she wants is to get out of Glasgow and make it as a country singer in Nashville.
At Sunnyside Hall, Rusthall Road, TN4 8RA
Doors open 7.00pm. Programme starts 7.30pm
Tickets: £5 for visitors or free for subscription holders
Come in costume or just as you are
St. Paul's Church, Rusthall, Services for Sunday 8.00 am Holy Communion 10.00 am Parish Eucharist, 6.30 pm Evensong.
Church Centre 10.00 am Family Service
The United Reformed Church in Manor Road meets at 10 am on Sunday.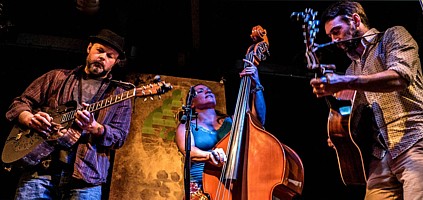 Live Music at the Toad Rock Retreat
Tuesday 22nd October 7 - 9 pm:
Tortora & Tyzack
Two amazing American blues musicians, Guy Tortora and Ben Tyzack, both frontmen of their own bands but here playing acoustic blues together in what promises to be a truly memorable evening...
Visit the websites:
www.spikedrivers.co.uk
www.guytortora.com
Italian Pizza van on hand so you can eat while you listen.
Rusthall Bonfire, Fireworks and Torchlight procession will be on Saturday 26 October from 7pm. If you can help out with marshalling at the event please call or message Lisa on 07738 662687 Lisatoes@yahoo.co.uk. Please deliver pumpkins for the competition between 10-4pm to St Paulís Church Hall, free entry and fun prizes.
Rusthall Library has new opening hours from 30th September. Click HERE for details.
Tunbridge Wells Library has moved so that work can begin on The Amelia at the Amelia Scott - an exciting new building combining the library, museum and other partners in one location. During the work, the library will be relocating to temporary premises in the nearby Royal Victoria Place shopping centre, and will reopen at Royal Victoria Place on Monday 11 November. The library will be situated on the first floor, opposite Fenwick and Muffin Break.
Rusthall St Paulís Primary School
Shopping Event on Wednesday 13th November 2019 6.30 pm - 9.30 pm
Itís the perfect time of year to find some wonderful products from local businesses & crafters, to treat yourself & loved ones
Support local & get some beautifully unique crafts
FREE entry. Join us for a FREE glass of Prosecco or orange juice
Location- Infant main hall, Rusthall St Paulís Primary, High Street, Rusthall
Rusthall Community & Youth Project are looking for active adult and young adult volunteers to deliver youth activities for their two youth groups. Previous experience would really help, although we have a training package for those that are wishing to start out in youth work. Give a call to Chris or Mike Bassett on 01892 543544 for further information.