Events Diary
To have items posted here please email
website editor: Nigel Suckling
Next Litter Pick
Mark Howden - I just filled another 3 sacks of bottles and cans mainly from Happy Valley. It's a real mess here as well as Tea Garden Lane. Really disappointed to see litter in areas we cleaned up last week. Going out again next Saturday 19th January at 10am. If anyone wants to help please meet at the crossroads by tarry path. please have gloves and dayglo non political vest!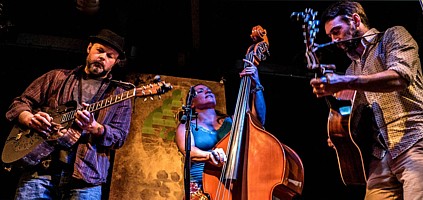 Live Music at the Toad Rock Retreat
Tuesday 22nd January 7 - 9 pm:
Bagge & Armer
Nigel Bagge and Eddie Armer are two of the most popular musicians on the local circuit and have perfomed in many different lineups over the years. As a duo they have a great rapport with Nigel on fingerpicking and slide guitar, from acoustic to electric and with great smoky vocals, accompanied perfectly by Eddie's harmonica, backing vocals and mandolin
Visit the website: nigelbagge.co.uk/bagarm.html
Italian Pizza van on hand so you can eat while you listen.
Tonbridge & Malling Ramblers offer lots of walks in and around Our area. For more information on the walks available see their website tonbridgeandmallingramblers.org.uk
BADMINTON
Friendly non league club looking for new players of all abilities. Meets Friday's 8pm -10pm at Holmewood House School Langton Green. Four courts available, pay and play, no membership fee. Come along or for more information call 01892 530716.
St. Paul's Church, Rusthall, Services for Sunday 8.00 am Holy Communion 10.00 am Parish Eucharist, 6.30 pm Choral Evensong.
Church Centre 10.00 am Family Service
Rusthall Community Cinema's next showing on Saturday 26th January is Sully: Miracle on the Hudson (2016) (Cert 12, Biography, Drama)
Director: Clint Eastwood
Cast Includes: Tom Hanks, Aaron Eckhart, Laura Linney
Tom Hanks stars as pilot Chelsey 'Sully' Sullenberger and Aaron Eckhart as his co-pilot Jeff Skiles, who were at the helm of Flight 1549 in 2009 when, shortly after take-off, the plane hit a large flock of birds which disabled both engines.
At Sunnyside Hall, Rusthall Road, TN4 8RA
Doors open 7.00pm. Programme starts 7.30pm
Tickets: £5 (or free for those who have a £40 annual membership).
Come in costume or just as you are
Police Community Support Officer
Here is the email for our PCSO Matthew Hill matthew.hill@kent.pnn.police.uk However, if you have been victim of a crime, it is always best to still contact the Police via 999 (if an emergency), or 101 or the Kent Police website.
LIBRARY CONSULTATION
Until 29th January KCC is running a public consultation over its future strategy for its Library, Registration and Archive services and is keen to hear everyone's views before decisions are made. The draft strategy and consultation questionnaire can be found online at www.kent.gov.uk/lrastrategy or paper copies are available in all Kent Libraries, Register Offices & Gateways.
KCC will also be running 20 drop-in sessions across the county in libraries where people can come and speak to our team about the proposals. Find all the dates and times of these online.
An Easy Read version of the draft strategy and questionnaire is available from our website or in hard copy from our libraries. If you require any of the consultation material in an alternative format these can be requested via email alternativeformats@kent.gov.uk or phone 03000 421553 (text relay service number: 18001 03000 421553). This number goes to an answering machine which is monitored during office hours.
For specific questions about the proposal and how this might affect you contact KCC directly by emailing lraconsultation@kent.gov.uk or call 03000 413131.