Events Diary
To have items posted here please email
website editor: Nigel Suckling
The Fairtrade Café Saturday 25th May from 10 am – 11.30 am, URC Hall, Manor Road, Rusthall. Do come and join your friends for coffee, tea and homemade cakes and biscuits. There will also be a well stocked Traidcraft stall selling fairly-traded goods plus a Fairtrade Raffle. For more details please contact Rosemary Romano 01892 539005.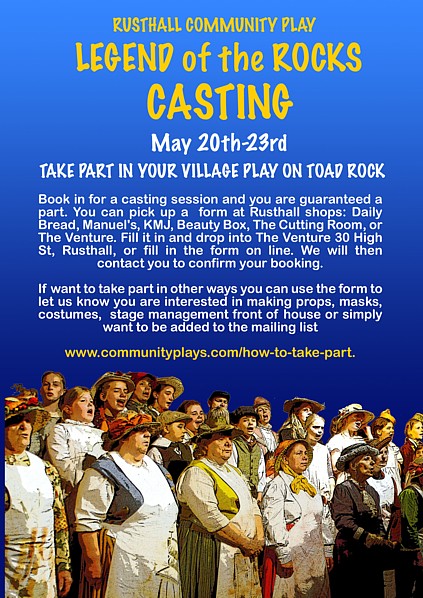 WILD CHILD!!! Free Forest School Play Sessions on the Commons, Thursday 30th May Half Term. All Welcome. Meet at Fir Tree Road car park, TN48AH (off Major York's Rd). Look for the signage from the car park and the happy children! There are 2 Sessions: 10 am to Noon, and then again at 1pm to 3pm, same place, both sessions are free, it's just turn up, no booking.
Coffee morning in aid of Macmillan Saturday 1 June in the URC hall from 9.30 - 12.30pm entrance £1 including refreshments. To book a table at £5 call Brenda Dillon 01892 533970
Broomhill Bank Summer Fete & Family Fun Run
Sunday 2nd June
Fun Run registration 8.30 am for 5k & 1k walk/run to start at 10 am
Early Bird entry fee £5 for 5k run - £8 on the day Early Bird fee £1 for 1k run/walk - £2 on the day
For early entries email info@broomhill-bank.kent.sch.uk
Mini Boot Fair Pitch
Tables/pitches will be available for £15 donation to school. Email info@broomhill-bank.kent.sch.uk to book a table
Cake Stall
Donations of cakes - homemade or bought - on the day
Other stalls will be available on the day

Broomhill Bank Dog Show
This year the dog show has new categories and more prizes to be won. Please bring your dog along and see if they get a prize!
Side by Side Bingo and Raffle will be Tuesday 4 June in Rusthall club. Doors open at 9.30am eyes down at 10.30am, supporting local fundraising groups.
Tonbridge & Malling Ramblers have many local walks and further information can be found on their website tonbridgeandmallingramblers.org.uk
St. Paul's Church, Rusthall, Services for Sunday 8.00 am Holy Communion 10.00 am Matins, 6.30 pm Parish Eucharist.
Church Centre 10.00 am Family Service with Holy Communion.
Thursday May 30 Ascension Day 11.45 am Holy Communion at the Church Centre, 8.00 pm Festival Eucharist at St.Paul's.
Table Tennis
There is a thought to have a table tennis table or two at Sunnyside Community Hall. If you may be interested in playing occasionally please email Eugene@rusthallcinema.club what days/times would suit best, and whether you are beginner, intermediate, or experienced.
Rusthall Community & Youth Project, Annual General Meeting is on Thursday 13 June, 7.30pm at the Zone, Rusthall library. Call Chris or Mike Bassett on 01892 543544, if you are interested in being a trustee, committee member, or youth worker.
RUSTHALL VILLAGE FETE
This year's fete will be on Saturday 29th June from 12 - 5pm at the Southwood Road playing fields. £1 entrance for adults, children free. For further details contact Lisa Lindfield Mobile: 07738 662687
Email: lisatoes@yahoo.co.uk
Tunbridge Wells Farmers' Market
A new site for the market has been found at Market Square, Camden Road. The market is held every 2nd & 4th Saturday of the month.
Tonbridge & Malling Ramblers offer lots of walks in and around Our area. For more information on the walks available see their website tonbridgeandmallingramblers.org.uk
BADMINTON
Friendly non league club looking for new players of all abilities. Meets Friday's 8pm -10pm at Holmewood House School Langton Green. Four courts available, pay and play, no membership fee. Come along or for more information call 01892 530716.
Police Community Support Officer
Here is the email for our PCSO Matthew Hill matthew.hill@kent.pnn.police.uk However, if you have been victim of a crime, it is always best to still contact the Police via 999 (if an emergency), or 101 or the Kent Police website.