Events Diary
To have items posted here please email
website editor: Nigel Suckling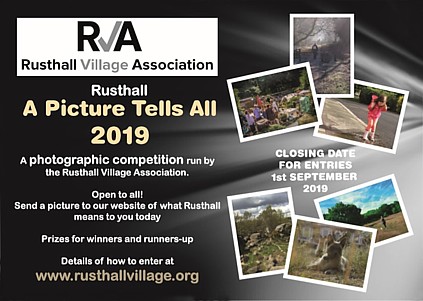 Click on the picture above for details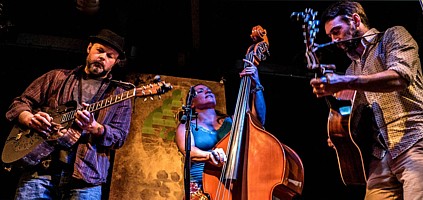 Live Music at the Toad Rock Retreat
Tuesday 16th July 7 - 9 pm:
Debbie Bond, Radiator Rick & Roger Nunn
With the blues activist and founder of the Alabama Blues Network, Debbie - who has played and recorded with some of the legends of the blues world - on guitar and vocals, her partner Rick on keyboard, foot bass, harmonica and vocals, and all accompanied by our own Roger Nunn on djembe. A perfect summer's evening is expected, to kick off the 'Legend of the Rock', a very special community play which will be taking place around the famous Toad Rock a week later.
Visit the website: www.debbiebond.com
Italian Pizza van on hand so you can eat while you listen.
RVA OPEN MEETING
Wednesday 17th July from 7.30 at the Rusthall, St Paul's Street
Adrian Berendt will be talking about the 20 is Plenty campaign to reduce the speed limit in the village. Other items include the Photographic Competition, village news and issues and the famous RVA raffle!
Rusthall Community Cinema's next showing on Sunday 21st July 2019 is O Brother, Where Art Thou? (2000) (Cert 12A)
Director: Joel Coen, Ethan Coen Genre: Adventure, Comedy, Crime
Cast Includes:George Clooney, John Turturro, Tim Blake Nelson
Loosely based on Homer's "Odyssey," the movie deals with the picaresque adventures of Ulysses Everett McGill and his companions Delmar and Pete in 1930s Mississipi. Sprung from a chain gang and trying to reach Everett's home to recover the buried loot of a bank heist they are confronted by a series of strange characters--among them sirens, a cyclops, bank robber George "Baby Face" Nelson (very annoyed by that nickname), a campaigning governor and his opponent, a KKK lynch mob, and a blind prophet who warns the trio that "the treasure you seek shall not be the treasure you find."
At Sunnyside Hall, Rusthall Road, TN4 8RA
Doors open 2.00pm. Programme starts 2.30pm
Tickets: FREE entrance to all
Come in costume or just as you are
St. Paul's Church, Rusthall, Services for Sunday 8.00 am Holy Communion 10.00 am Parish Eucharist, 6.30 pm Homily with Compline.
Church Centre 10.00 am Family Service
For details click HERE.
BADMINTON
Friendly non league club looking for new players of all abilities. Meets Friday's 8pm -10pm at Holmewood House School Langton Green. Four courts available, pay and play, no membership fee. Come along or for more information call 01892 530716.
Tonbridge & Malling Ramblers have many local walks and further information can be found on their website tonbridgeandmallingramblers.org.uk
Table Tennis
There is a thought to have a table tennis table or two at Sunnyside Community Hall. If you may be interested in playing occasionally please email Eugene@rusthallcinema.club what days/times would suit best, and whether you are beginner, intermediate, or experienced.
Police Community Support Officer
Here is the email for our PCSO Matthew Hill matthew.hill@kent.pnn.police.uk However, if you have been victim of a crime, it is always best to still contact the Police via 999 (if an emergency), or 101 or the Kent Police website.
Click on the map for enlargement.
RVA MEETING DATES
2019
At the Rusthall Social Club in St Paul's Road
from 7.30 - 9.30pm
All are very welcome to share any news, events, thoughts, ideas and concerns relating to Rusthall. Any queries please contact Alex Britcher, on 01892 549184 or alex.britcher@outlook.com
Wednesday 17th July
Wednesday 18th September
Wednesday 20th November
RUSTHALL LOCAL HISTORY GROUP
Rusthall Borough Councillors
If you have any sort of problem or query please contact us by phone or email and we will do our utmost to help.
Dave Funnell tel. 07835 476036
Joy Podbury tel 01892 315549

Click on the logo above to visit their website