Events Diary
To have items posted here please email
website editor: Nigel Suckling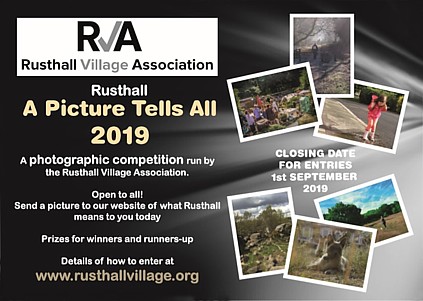 Winners of the photo competition judged by Gary Francis, picture editor of the Courier, will be announced at the RVA open meeting on Wednesday 18th September from 7.30 at the Rusthall club in St Paul's Street
Click on the picture above to see entries
St. Paul's Church, Rusthall, Services for Sunday 8.00 am Holy Communion 10.00 am Matins, 6.30 pm Parish Eucharist.
Church Centre 10.00 am Family Service with Holy Communion
Fairtrade Cafe
A welcome back after the summer break on Saturday 28 September from 10 am Ė 11.30 am, URC Hall, Manor Road, Rusthall. Come and join your friends for coffee, tea and homemade cakes. There will also be a Traidcraft stal land a Fairtrade Raffle. For more details please contact Rosemary Romano on 01892 539005.
The Claqueur Performance Group (responsible for the Legends of the Rocks performance) will be putting together a show on 29th September. 7.30 Groombridge Village Hall. We hope to be joined by members of Restrisiko, a German Impro theatre company from Wiesbaden, who are twinned with Tunbridge Wells.
Following the success of Legends of the Rocks people have requested an improvisation beginners' course. So you can first attend a Free Taster full day workshop to see if impro is for you. The Taster workshop is on 29th September 10.30pm - 4pm at Age UK on Wood Street, Tunbridge Wells. Bring a packed lunch and we will lay on coffee and biscuits. It's an opportunity for you to give it a go and if you enjoy it join the ten week course that starts on October 7th and runs every Monday until December 16th.

Click on the image for details
The next RVA litter pick is scheduled to take place on Saturday 5th October, starting at 10.30am from outside the Toad Rock Retreat. We will pick litter in the surrounding streets and finish with a social at the Toad Rock. In order to arrange catering, please can you EMAIL me if you will be coming to the pick and the social. The buffet will be free to those who have taken part, but you will need to purchase your own drinks.
Litter picking sticks and bin bags will be provided, but please can you bring your own gloves.
Friends Of Rusthall School (FORS) AGM - Wednesday 9 October 7.30 - 9.00 pm at Infants main hall, Rusthall St Paulís School, High Street. All welcome to this meeting, join us for drinks/nibbles and find out more about the activities of Rusthall St Paulís primary schoolís PTFA (financial, personnel and future activities)
Tonbridge and mailing ramblers information on local walks available on their website tonbridgeandmallingramblers.org.uk.

Playplace
are recruiting a Nursery Manager to work in Rusthall
Must be qualified min. Level 3 Early Tears/Playwork. Term time/Flexi hours
Free childcare for staff
For further information contact info@playplace.org or ring Rose on 07985 771045
Rusthall Community & Youth Project are looking for active adult and young adult volunteers to deliver youth activities for their two youth groups. Previous experience would really help, although we have a training package for those that are wishing to start out in youth work. Give a call to Chris or Mike Bassett on 01892 543544 for further information.
Macmillan Coffee Morning at Rusthall Library on Thursday 12 September 10.00 -12.30.
BADMINTON
Friendly non league club looking for new players of all abilities. Meets Friday's 8pm -10pm at Holmewood House School Langton Green. Four courts available, pay and play, no membership fee. Come along or for more information call 01892 530716.
Tonbridge & Malling Ramblers have many local walks and further information can be found on their website tonbridgeandmallingramblers.org.uk