Rusthall Letters
Feel free to EMAIL us with any views, opinions or suggestions you have about the village.


---
Date: June 2015
LETTER FROM GREG CLARK MP to a Rusthall resident regarding the increased aircraft traffic over the Tunbridge Wells area. Click HERE to download a PDF copy.
---
Date: January 2015
AN OPEN LETTER FROM STEWART WINGATE (CEO GATWICK AIRPORT) TO NEIGHBORS REGARDING GATWICK
Download a PDF file of the letter HERE.
---
Date: 18th September 2014
Aviation update: Gatwick Obviously Not!
From: Simon Byerley
Firstly, where have all the planes gone?
Lots of people have been asking us why it's been ominously quiet recently. Unfortunately the planes have not been rerouted! - the simple truth is when the wind blows from the east we don't get arrivals, just departures at a higher altitude, this happens approx 25% of the year.
Secondly
We'd just like to let you all know that a huge amount of campaigning has been going on across the summer and thanks to your supportive letter writing, attendance of village meetings and complaining of noisy aircraft - we are really gaining momentum. You all supported BEAG and CAGNE East when it counted most, and now as key parts of a bigger group we number over 1000!
The attached Aviation Update
To keep us efficient (and manageable!) our umbrella group Gatwick Obviously Not will send out regular Aviation Updates so please copy ask@gatwickobviouslynot.org into your email address book so that the Aviation Updates don't fall into 'Spam'.
Excuse us if you have already received this one - please feel free to pass it on to a neighbour, regards Kealey, Simon and the whole Gatwick Obviously Not! team. www.gatwickobviouslynot.org
---
Date: 27th August 2014
Subject: Rusthall
Hi,
I have been meaning to write this letter for some time, ever since I happened by chance across your web-site actually. I have very fond memories of Rusthall and my connections with the village go back beyond my own generation.
I myself lived in Rusthall from approximately 1964 until 1969. Only 5 years but it seemed longer because it covered one of the most formative periods in my life, my teenage years. In those days my name was Gail Goldsmith and together with my Mum and Dad and my younger sister Elaine we lived at No 54 Shirley Gardens. In the early days there was only an open field opposite our house but I remember when they developed it and built the houses there. As it happened my friend Sally Arnold (who lived with her family at, I think, No 83) and I were, shall we say, reasonably well acquainted with some of the lads working on the site. I remember one evening, after the site was closed for the day a wagon load of bricks being delivered (the driver had been held up en route) and not only did Sally and I contact a couple of the more local lads from the site to come and help unload but we stayed and helped unload the bricks too. Delivery wagons were not equipped with the lifting gear they are today so it was a long job.
Across the road, in the other direction, from our house (I think it was 59) lived the Wenn family with their daughters Melanie and Jenny. The Arnolds, the Wenns and us all knew each other because we girls all attended Fosse Bank School in Tonbridge. I am still in touch with Sally but lost contact with Melanie many years ago.
Sally and I were regular members of the Youth Club, though I must admit that in the later years, when we were a bit older, more time was spent in the White Hart and the Morning Star. Before that, in my earlier teenage years I used to go and work at Redsheen Kennels at week-ends and in the school holidays. There were so many of us that wanted to go down there to 'help' by walking the dogs etc that most of us did it on a voluntary basis. However I remember that I was so keen that I spent just about all my spare time there and so Anne Moon, the owner said that if I worked there during the Summer holidays and came every day she would pay me a small 'pocket money' wage. I loved it so much I would have gone for nothing so that was a real bonus. One of my fondest memories is of staying overnight in the kennel-maids accommodation and getting up, with one of the full time kennel maids, at 4 o'clock on a dark winters morning to go down to the hospital block to make sure that a litter of puppies that were needing help were feeding properly from their mother. Lumpy cocoa in the freezing cold listening to the squeaks of very young puppies under a heat lamp was my idea of heaven even if my Mum did think I was mad and told me I stunk of dogs and disinfectant every time I came home.
But my family connections go back even further than my teenage years. One of the reasons that my family moved to Rusthall (from High Brooms) was that my Dad had spent a lot of his growing up years there. I am an amateur genealogist and as far as I can tell from the records I have it was his earliest years that were spent there. He certainly attended Rusthall Primary School. I have some of his old School reports the last one of which is dated 31 March 1931. I know he went to Skinners School after that and the family later lived in Dynevor Road in the High Brooms area but I don't know the date they moved from Rusthall - yet. I have a lot more old family papers to go through and I may get some clues from them. And if I do I am delighted to note that you have an active historical society with whom I may get in touch to clarify issues or answer my questions.
In the meantime I would be delighted to hear from anyone who remembers me or my family. Having initially left Rusthall to get married and live in the Lake District (which I did for 20 years) my husband and I now live in Dorset. Strangely my daughter and her husband have found themselves living in Crowborough, so near my home roots. Still it gives me an excuse to revisit the area from time to time. If anyone in the area does remember me and wants to get in touch they can reach me on this e-mail address gail.cropper@yahoo.com
And thank you for the lovely web site that not only keeps Rusthall locals up to date but also keeps us ex-pats in touch as well.
Yours sincerely
Gail Cropper (nee Goldsmith)
---
Date: Mon, July 21, 2014
Subject: Rusthall Fete
Hello all,
Wow, 5 years in and we just keep getting better and better!
This year's village fete was simply amazing, the feedback from Greg Clark MP was fantastic, to quote: 'This is one of the best fetes I have been to'. Greg attended the event with his children who got involved with our activities and when I caught up with them they were enjoying the delicious cakes which were all donated.
I was honoured to walk around the fete with the mayor and his wife who are a lovely couple. They talked to lots of people and participated on the tombolas, skittles, raffle and thoroughly enjoyed meeting our great team of volunteers. Following a refreshing glass of Pimms and watching the dog show they left with smiles and lots of compliments to us all for putting on a great day, which in turn we had approx 2500 people attend.
One of the great stories this year was to hear that at last year's fete Bev Howden donated to the lifeboats fundraising team a model lifeboat, as her father was due to go into a nursing home with dementia. He built the model in the early 80's and was unable to restore it due to illness. The team at the lifeboats have been working all year and this was on display today. The look on Bev's face today was overwhelming and she was delighted that they had put all the hard work in to return it to its former glory.
Big thank you's go out to everyone on the food and drink stalls who really help to personalise the fete and keep the community feel to the event. Without your continued support we wouldn't be half as successful.
The remainder of the stalls were decorated beautifully and were extremely busy throughout the day, the raffle sold out and fortunately we managed to get more tickets, the prizes were amazing with lots of hard work going into collecting and presenting the gifts. The bric a brac was huge, well done to the team for trying to sort it all out and putting big smiles on all day to help raise a fantastic amount of money. The girls on the facepainting didn't stop for over 5 hours, they worked so hard and the children absolutely loved all your efforts. The sailor girls on the tombola worked very hard to collect, prepare and run a great stall which was very popular.
All the volunteers on the assault course, bouncy castle, bowling alley, coconut shy, caving centre, shooting, boxing, and tombolas did a superb job keeping everyone entertained. The dancing groups and drummers were just outstanding, thank you to Richard and his team of driving / flying men in the WW1 planes for the hours of work to prepare them and putting on a great display. The drummers are always a popular addition to our fete with the intense atmosphere they create; again they didn't disappoint with an incredible display. The band were a great success and the foam party was just the icing on the cake to finish the perfect day. The kids and adults appeared to thoroughly enjoy it (except the one little girl who ended up eating the foam!). The classic cars looked stunning and created another dimension to our event, and special thanks go out to Dennis and his team at the local history stall for putting on an extremely detailed and beautiful display of the history of Rusthall during WW1.
Thanks also need to be extended to those who lent us equipment, helped with marquees and clearing up. Please can you ensure if you brought friends / family along they are thanked and we hope they can attend our social event in November.
We look forward to hearing from our hard working and dedicated treasurer and her team to find out how much we raised over the coming few weeks. Well done to Muriel and co...
Everyone should be extremely proud of themselves, your hard work and dedication is second to none and helps to make Rusthall a great place to live.
Lots of love and hugs to you all
Lisa Lindfield
xx
---
Date: Mon, May 19, 2014 at 12:43 PM
Subject: V Worrying Developments at Salomans
Dear All,
Hope all's well.
Not sure if you've seen leaflets or heard about the plans for Salomans..? It's been bought by the MarkerStudy (insurance) group initially as a training and education centre, but they have now got change of use to events. As well as a proposal for a hotel within the grounds, one of their main plans is to have a 'Father Christmas World' for a month+ with music, lights, anamatronic polar bears, etc etc. They have bought up three of the properties/farms on Broomhill Road with a view to using them for car parks for this and other events -- 60,000 people is the number being suggested for this event alone, but as you'll see they have a licence for 1,200 events a year with 500 people at each which means up to 600,000 people a year on the narrow Broomhill Road and the surrounding lanes -- Speldhurst Road down to Majestic Wine, Lower Green Road (where the plan seems to be to put in a new exit from Salomans), Stockland Green, etc etc. There will be a huge knock-on in terms of traffic and noise for people living or working in Rusthall, Speldhurst, Langton, Bidbourough etc, not to mention the routes into and out of Tunbridge Wells.
There is a group of people getting together to raise awareness and stop this happening -- obviously everyone realises that businesses have to be profitable, but the feeling is that this should be done in a responsible and appropriate way with regard to the traffic, countryside, and surrounding residents. Imagine the chaos of snowy/icy roads with hundreds of extra cars along narrow lanes that are not even wide enough for two cars in some places. And that's before the lorries, diggers and other construction traffic that will be needed to erect huge tents, ice rinks, etc etc...
I've attached a flyer with a contact email. If you would like to get in touch to find out more/show your support/offer help or expertise, then please do. There will be a public planning forum at which we need to get as many people as possible to attend. Please would you forward this to other people that you think may be affected and who would like to have a say.
Many thanks,
Julia Wheeler
juliawheeler01@gmail.com
If you have concerns about the planned developments at Salomons Estate, please email developresponsibly@gmail.com for further details and a link to a petition to request that residents have their say at a public Planning Application Forum.
---
Press Release
23 May 2014
KCC launches new adoption campaign - Changing Futures
Kent County Council is launching a new adoption campaign to find homes for 43 children who urgently need to find forever families.
For the first time, potential parents will be able to read about these children's lives, loves and needs on the KCC adoption website www.kentadoption.co.uk.
KCC is finding homes for youngsters in Kent every day but some of these 43 vulnerable children have been waiting for some time and urgently need a family now or face a future in care.
Many of the vulnerable youngsters are siblings, are a little older or have some level of disability which means they may have been overlooked by adopters in the past. KCC is hoping that being able to read about the real children who are looking for homes will help people to see past any preconceptions and see the loving and rewarding individuals they are.
Isabelle*, 4, and Sophie*, 2
Isabelle and Sophie live with their foster carers where they are happy and loving girls. They love to play together. Like any sisters, they can disagree, but they are soon friends again.
Isabelle loves being outside zooming around on her pink scooter or swinging on the swing. She loves her sleep and, like many pre-schoolers, can be fussy with food. She is popular with friends and staff at pre-school and she is particularly fond of animals and babies.
Sophie enjoys nothing more than a cuddle and is a smiley, giggly girl, even first thing in the morning. She is happy when playing with building blocks, or her toy food, or when she is giggling in her baby swing.
She's a little underweight which means she has help to build up her strength. She is cruising around the furniture and taking steps with her walker so one day she will be chasing her sister on two feet! Sophie and Isabelle want to stick together and need a family who have enough love to give them both a happy future.
George*, 6
George is a loveable and popular little boy who is always smiling. He enjoys going to school and his teachers say he is doing really well. He loves to play with other children and is really kind and loving towards younger boys and girls. He might be a little smaller than his classmates but he makes up for this with his huge personality.
At home, he really likes to be outside and is a budding gardener, tending to his plants. He adores being lavished with cuddles from his carers and his dream is to one day go to LEGOLAND.
Archie*, 4 and Harry*, 3
Cheeky brothers Archie and Harry are very close and have always looked out for one another. Archie is full of fun, and delights in making other people laugh. When he's not busy entertaining others, he loves nothing more than to run around outside or set up a city with his toy trains and cars. Since he's been living in a loving home, his confidence has improved dramatically and his speech is now so good that he no longer needs help. He can still a bit shy to ask for a cuddle, so he needs a family who are open and affectionate to show him that it's okay. He's doing well at school and has made lots of good friends. His teachers say he is happy and full of energy and jokes!
Harry is so loving and caring and has lots of friends at nursery. He loves to learn new things. He finds it easy to join in with activities and gets stuck in to whatever he's doing. His favourite place to play is out in the open air - especially at the seaside, paddling with his brother.
These lovely boys have a bright future ahead of them and would love to stay together in a calm and caring family home with a mum or a dad who can always be there for them.
Ethan*, 3
Affectionate Ethan can often be found deep in a cuddle with his foster carers. He is a little boy who gets on with everyone he meets. He loves puzzles and musical toys, as well as stacking toys and finding things in bags.
Nothing tickles him more than building blocks until they wobble and fall, sending him into giggles, before building them back up again. A little nature lover, he loves seeing birds flying through the sky and watching the animals that visit the garden.
His words are coming, he is getting more confident as he has more new experiences, and, with love and encouragement, he is starting to reach development milestones. A trusting and likeable character, Ethan is seeking patient and loving parents to care for him.
Can you give Sophie and Isabelle, George, Harry and Archie or Ethan the loving families which could change their lives? If so text Adoption to 88802 or visit www.kentadoption.co.uk..
Kent County Council is also holding an event for anyone who wants find out more about adoption:
ADOPTION INFORMATION EVENT – Saturday 19 July, Hilton Maidstone, Bearsted Road, ME14 5AA. Please see website for details www.kentadoption.co.uk..

* Names have been changed to protect the identities of the children. All other details about the children are correct.
---



RUSTHALL GOING GREEN - Moving On

Spring 2014

As many people know, RGG is having a "sabbatical" - we're on long leave while considering where to put our energies in the future.

And talking of energy, there are now at least 33 solar panels in the village. Please contact me if you have seen any new ones this year or indeed have put up some yourself.

It seems now that 99% of climate scientists are sure that human beings are responsible for the increase in global warming. The debate then moves on to how we can better save energy and what sort of help and inspiration do we need to do so. See the independent website :- www.trust.org

The Tunbridge Wells Borough Council (TWBC) has published its policy on how to encourage us to reduce Carbon Dioxide emissions and so save money by saving energy. They are :- - helping residents to be more energy efficient at home, school and work and aiming at a 34% reduction over the next 16 years
- helping residents and businesses to use water resources more wisely
- working with businesses to help grow the "green economy" by creating more jobs in the environment sector
- building resilience to the impact of climate change ie how to keep schools open, services operating and businesses running during severe weather conditions
- increasing the management of and volunteering in local wild life sites

More details of all these points are available on the TWBC website:- www.kent.gov.uk/ClimateLocal

Yours in green,
Tony Rutherford



---
Date: Tue, 14 Jan 2014
FROM THE DAILY TELEGRAPH WEBSITE
(Forwarded by Alex Britcher's Dad)
An ostrich [actually a rhea] caused traffic chaos in Tunbridge Wells after running beside cars at more than 40mph.
The escaped bird was spotted running past 20 cars on the main road between the villages of Rusthall and Speldhurst in Tunbridge Wells, Kent. Adult ostriches can run up to 60mph and grow to more than 9ft-tall, but this youngster is just over 2ft-tall, but can still run at more than 40mph, according to locals. Motorists slammed on the brakes after spotting the flightless bird speeding up and down the busy main road - causing queues of more than 20 minutes between 8.30 and 9am.
---
November 2013
Hi,
It's been a while [September, see below] since I've been in touch in connection with ancestral connections to TW/Rusthall. You may well remember my interest grew having found some old photos over the summer - well, another photo album has turned up and among these is possibly a half-interesting photo (attached) - as to be honest, looking at Google Streetview of the same location, it looks like little has changed. It is of course 18 Woodside Road with my great Grandmother standing on the front path. I think it was Dennis Penfold that told me my grandmother lived at 2 Harmony Street - but further research since has obviously thrown up this address and also 7 Spring Gardens. As for the Schmidts, I now believe I've found "Johann Thomas Schmidt" born in 1800 in Holstein (currently Germany, but believed to have been under Danish rule at the time - possibly with the transfer to Germany causing the migration to England). You may find you can see the family tree HERE, with 'John' being the first named and being the grandfather of the Fred that married Ruth Potter that appears in the photo. Clearly we know exactly where the photo was taken but haven't a clue as to when.
Not being content with the interest in the named properties (Alma Cottages), it is interesting to see the state of the gate and front walls. However, of particular note is the Fire Service's 'badge' detailing the fire hydrant being four feet away ! I bet it's still there. Having looked at Google Streetview, it looks like the hydrant's moved 2 doors down (14/12) ! I suspect Dennis would be interested in this image too and if you agree, feel free to let him see it. Any opinions of a date would be appreciated !
I've still other branches of the family to research but this has been a very good start. One of the biggest helps has been via the website "The Weald" and Peter that maintains it. I think it'd be good to give him credit for his efforts - even if we've a bit of questionable data I've still to nail (a wife has 2 possible names and it looks like there's a bit of confusion as to which one was married to our family!) I'll check with Peter possible acknowledgements on either of the websites I know you're involved with.
Cheers for now.
---
October 2013

Residents and youth at the Le Touret memorial, commemorating Rusthall Great War servicemen who died in the Battle of Aubers, 9th May, 1915
REMEMBRANCE SERVICE
'Rusthall-Great War Remembered' photographic display, produced by the Rusthall Community & Youth Project, with research from residents and youth, is on view at St.Paul's church, Rusthall, until mid November.
Over the past six years, residents and youth have visited commemorative sites in France and Flanders, photographing headstones and name plaques of Great War servicemen from Rusthall. Following this year's visit to Vimy, Loos and Aubers, we have now recorded details of 75 of the 120 servicemen on the war memorial.
Please stay and have a look around the church after the service. The church will be open in the afternoon from 2.00pm to 4.00pm for further viewing.
---
October 2013
Hello,
Since we came and presented to RVA Nourish has grown quite quickly because of the demand from families and individuals in need. On average we are giving out around 30 bags of food each week which is the equivalent of over half a metric tonne. The total number of people fed is now over 400 including around 80 families. We know we have helped at least ten people in Rusthall, the actual number is probably much greater as we record by postcode and TN4, for example, covers a large area. I understand from Alison that the Venture drop off for food is working well and the bin there has been emptied at least three times.
In August we appointed Dawn Stanford as Operations Manager and she has got everything pulled together with the help of around 35 volunteers co-ordinated by Vix Daniell. Food donations have held up very well indeed and the big supermarkets are beginning to help us as well as local communities such as yourselves and local churches. We have also started a food voucher system for fresh food such as meat and vegetables.We have had to move into bigger storage space in Big Yellow who are giving us the space free of charge. Earlier this month Nourish was awarded the winner in the Best Community Group at the TWBC 'Love Where You Live' Awards.
Sadly the demand for what Nourish does, in supplying emergency food and sign posting people to agencies that can provide more permanent help, is increasing and as Winter begins to bite we can only see the situation getting worse. Nourish is here to serve the local community and we are so very grateful to areas like Rusthall that support Nourish in giving food, donations and volunteers. Likewise we hope we can help people in need in your area. We also have a website up and running which gives details of how people can get referred to us for help. If RVA sense anyone is having a problem then please point them our way.
We would like to thank everyone at RVA again for their support.
With best wishes,
Richard Hardingham.
---
September 2013
Hi,
I'm in search of the school in Rusthall with the name of "Rusthall Standard VI" (That's 6th to the Romans) (which of course may be a fictional name for a factual school) but we're talking "about 1909" when my gran would have been "about 12-ish" and attending this 'ere school along with the other posh girls. The attached image shows said girls along with teacher Miss Dunham. My gran is at the left-hand end of the row with the teacher - well that's wot it ses on the back ! And since it's you, I've attached the back too !
Feel free to use the images on the website as I'm confident the copyright holder will be a few feet under by now. There could be people in the area that are related to the names thereon - so a bit of local value for the site.
All I want to know is which /where's the school!
We believe Gran was born in Denny Bottom (possibly), either way, she was brought up there.
Of course, anyone with links to Edith May Schmidt (b 1897) can get in touch with me.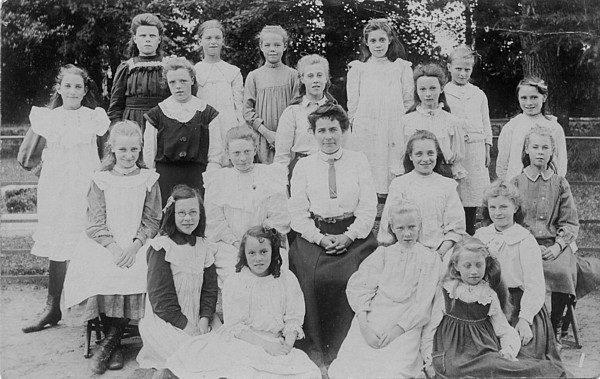 The writing on the back of the postcard reads:
Grace Easterfield, Kate Household, Hilda Hollamby, Alice Savage (?)
Eva Coppard, Lela Chapman, Gladys Denham, Mildred Hosler, ? Longfield
Edith S[chmidt], Nellie Martin, Miss Denham, Hester Wood, Nellie Denham
Maria Damper, Lucy Benton, Phyllis Denham, Dot Boxall
Doris Hosler

Rusthall Standard VI
at about 1909
---
From Mark Rees July 2013
I like BBC Radio 4 but admit that my concentration sometimes wanders, especially if I'm also doing something else. A few weeks ago, however, my mental wandering was brought to a sudden halt. The broadcaster's words shot through my inattention and jolted me back into the here and now, or, more correctly, the now. It wasn't "here" but "there,"
"…there are three thousand people in this refugee camp but only one toilet…"
Yes, I am aware that there are millions of people who have neither a safe water supply nor any sanitation but that stark statement really hit me. Few of us can imagine what it must be like to be denied these basics. Their lack of such facilities means more than dealing with a very unpleasant situation but also leads to disease and its often fatal consequences.
Some years ago I organised a coffee morning in Rusthall to raise funds for Water Aid. The words I heard on Radio 4 now prompt me to do so again and I hope that my initiative will be supported.
My proposed Water Aid coffee morning is booked for Saturday 24th August 2013 at the URC Hall in Rusthall. Offers of help will be welcomed especially for the "Bakery Stall", raffle, perhaps door and, dare one mention it, standby for washing up! Gifts of items for the tombola and raffle will be gratefully received as will "goodies" for the "Bakery": sweet or savoury, perhaps preserves or even home-grown fruit and vegetables if some can be spared. The entrance fee will be 50p, filter (or jar!) coffee/ tea and homemade cake will be £1. I admit to having occasional moments of anxiety, imagining hundreds of people crowding in but no helpers or coffee or, equally awful, dozens of helpers but no customers. Previous experience should reassure me. Although before the event "staff numbers" and gifts might seem few, on the day people have always turned up, turned to and we have a thoroughly enjoyable and productive morning. I hope you will be able to support this event and also tell your friends.
Mark Rees
01892-520111
---
June 2013
Hi, I am David Blake and lived at no 12 Grange Road till the late 50s, after being bombed out and living in Culverden Hill House in a flat. My father is buried in Rusthall Cemetery. I belonged to Rusthall Scouts and used to go camping behind a house at the top of Teagarden Lane [Beacon Hotel]. There were lakes and we used to camp on one of the islands. I went to Victoria School and Tunbridge Wells Technical Institute, and then worked at SH Muffett.
I would like to make contact with anyone who remembers me.
I lost contact with the area after getting married and moving away after my mother died.
---
Posted to Rusthall Bonfire and Fete Group June 2013
Hello folks, you may think it a bit odd that someone resident in Lincoln would want to join your group? I was once resident in Rusthall, I went to school there (now the library I believe). I lived at 145 Grange Road, left there for Southborough in 1955ish when I was nine years old, but there are some names that I remember, Frank Seal, Robert Hayman and his sister Carol?, Alan Weightford (not sure of any of these spellings). There is a photo, on my profile, of me and my sister taken in Grange Road.
My mum made me a trolley from and old bed frame and some pram wheels, quite common in those days. I remember her 'drilling' the holes with a red hot poker that has been put in the fire for the purpose, no posh drills then. It had four seats, and I recall speeding down Harmony Hill fully loaded, straight across Woodside Road and into Grange Road. Was a bit hairy I recall, no brakes other than the heels of your shoes. No cars about then, just the occasional visit from Demashio's Ice Cream van and the bin men.
The shop on the corner of Woodside and Grange Roads was Beaumont's, I clearly remember the bacon slicing machine and the tin of broken biscuits at the front of the counter, I can even recall the lovely smell in there? Funny things, memories?
Hope to visit you one day, perhaps when you have a fete or a bonfire on the go?
Best regards,
Malcolm Douglas Porter
---
May 2013
Hello,
I have stumbled across your website in my search for my birth place. My birth certificate is from Tunbridge Wells, but does not have details of the maternity home name or address. I was born there in July 1943. My Mother, who was living in Broadstairs, went to Tunbridge Wells as it was considered to be safer due to the war. She told me that the "Nursing Home" was a converted mansion in Happy Valley.
During my searches for the name of maternity homes in Tunbridge Wells, the two names that come up are... '"22 Broadwater Down" and " Northfield Maternity Home. From what I can deduce is that "Northfield" sounds like the one.
Does anyone have any information about the history of this place? Is it still there? Any 1940s photos of Northfield? Look forward to hearing.
Thank you Danny Maguire
PSThank you Nigel, Must write and let you know that I have definitely established my place of birth was 'Northfields" Speldhurst, TW. This was information I received from Brian Dobson who is involved with the Tunbridge Wells Family History Society. I still don't have an address though or any pictures. Can anyone help with these? Many thanks for your interest..... Danny
---
August 2012
Hi my name is Ann, I now live in Bribie Island Queensland Australia and have just found this wonderful site when searching for my Bull Family, unsure if this is the right email address to add a letter.
I spent many happy holidays at my Aunt & Uncles at 8 Erskine Park Road Tunbridge Wells.They were the Gearing Family George & Dorothy & Phillip, Brian( who became a fleet street reporter) and Peter who we still have a little contact with and now lives in Somerset.They loved sport and played Cricket & Football regularly. I too spent many hours at Toad Rock; we also used to go for long walks and used to eat nuts afraid I cannot remember the name of them. Your letter brought back many memories. As we were Children in Eastbourne during the WW11 my Mother, Sister and I evacuated to Rusthall but did not stay long as it was almost as bad with bombing as on the coast.
Now to get to my elusive Bull Family Ann Bull christened 1799 in Speldhurst married Richard Hodd 13 Novenber 1823 in Lewes Sussex, I have details of the Gearing side as my Maternal Grandmother was Alice Gearing and lived with us most of my childhood years. I have found a Thomas Bull and Rebecca of Speldhurst who were the Parents of Ann Bull but have not confirmed they are my Ancestors. It was with great interest I read on this site about Bull Hollow. Anyone who has any information about the Bull family I would appreciate hearing from.
Thank you so much for this site it is now saved for future reference
---
May 2012
A resident of Erskine Park Road writes regarding the park in Southwood Road:
I've just been on the Rusthall Association website which I admit I have never done before. It was lovely reading through some of the letters especially ones from people who grew up in the village and have happy memories. I grew up in Tunbridge Wells but have lived in Rusthall for 20 years now. I love the village, the community and "most" of the people.
There was a letter from somebody saying they had been pleasantly surprised that the new play area in Southwood Road hadn't been wrecked. However, I have a complaint about the park, I'm sure there's nothing that can be done, it seems the "decent" people of the village will always have to have their lives made miserable by those who have no decency.
I'm often down the park with my children and I have to say, I'm not sure how much longer I'm going to be able to visit. There are always a number of people down there who seem intent on ruining the park for everybody else. The language that you hear is absolutely appalling and, to be honest, I don't want my children down there anymore. How sad that we have a lovely park on our doorstep and in the holidays I'm going to have to put them in the car and drive them to a different park. It's not just the odd swear word, it is literally every other word.
Why do we have to put up with it and why can't anything be done? Years ago there would have been a park warden patrolling and moving people on like this who cause trouble for other people. They also don't seem to know what a rubbish bin is and a warden wouldn't have tolerated that either. Now there is nothing and nobody to stop them creating a miserable atmosphere for other people. The police do an occasional drive by and if nobody is wrecking or setting fire to anything, they just drive off.
It seems we are unable to do anything about these people. So yes it's wonderful to have the lovely park but how sad that I now feel unable to use it happily. I shall drive to Langton Green, Southborough or Hawkenbury during the holidays where I don't have to listen to the language that I have to listen to there.
So well done Jenny Blackburn for helping create the park, it's a shame you can now do nothing about the people that go down there.
Anonymous
Erskine Park Road
---
January 2012
Carol Lawrence writes regarding the proposal to move the recycling bins from Common View:
The complaints of some Common View residents about the bins are not just about noise when the lorries come early in the morning to empty them - the request to move the recycling units have been more positively to free up space for High Street shoppers during the day and parking for residents at night. It gets very congested at that point, people parking dangerously to use the chemist and One Stop as well as taking their recycling. I found out over the weekend that a number of named people from Langton use Common View as park and ride for the 281 bus, and from today (31 January) there is a daily commuter coach service to London from outside the chemist, meaning more park and ride? It would be ok if the shops got any trade from it I suppose.
I think the Common View residents have been very accommodating over the years in order to accomplish strong environmental aims.
---
December 2011
Howard Rockley writes
Hello,
The attached document is extracted from Colbran's New Guide to Tunbridge Wells of 1840.
It shows a building which features on Tunbridge Ware & which is known to collectors as Hurst Wood Cottage. However, in Colbran it is described as a 'Tudor Style farmhouse' in the vicinity of Toad Rock.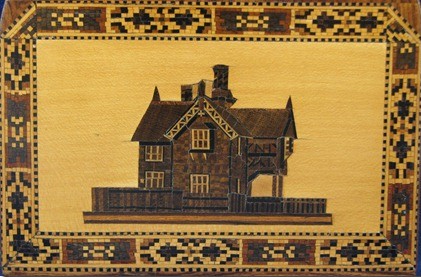 Do you have any idea where it was or what it was actually called?
Best regards, Howard Rockley
---
July 2011
Hi, my name is mark irwin and I have just been looking at your website – it bought back such vivid memories of my childhood I was really moved.
I moved to Asher Reeds when I was six in 1968 – well my mum and dad moved and were good enough to take me (and my 2 brothers) with them! I was in the Rusthall Cub Scouts which used to be held in St Pauls church hall which was opposite what was then the Morning Star Pub. We used to play on the common opposite and buy 10p of chips in Rod's fish and chip shop on the way home – there was another chip shop opposite the Methodist (I think) church hall which is now a Chinese take away and has been for a few years.
When I graduated to the Rusthall Scouts I cycled to the parades which were held at Toad Rock in the big house opposite the Toad Rock Retreat. The pictures of the area – Deny Bottom etc immediately took me back – the painting of the corner of Upper Street and Apsley Street where they become a footpath and the light is particularly evocative - I could feel the bumps in the sandy stoney path as I rode my bike along it. In those days there was an off licence shop very near what is shown in one of the photos of the area as Jude Hanbury 'Toad Rock Cottage'. There was also a corner shop opposite the Toad Rock Retreat.
I used to spend a lot of my weekends and holidays at Jockey Farm in Nellington Lane with Dave and Andy Rustbridge, in those days Mr Harris was still alive and I can remember him with a roll-up cigarette always in his mouth. At the time I think the milk round he used to do was just coming to an end but I can remember the milk being pasteurised at the farm. There used to be a fantastic allotment opposite the farm with loads of vegetables and fruit being grown – I think it is overgrown now.
I left the area in 1980 when I was 18 to join the Royal Navy. I'm currently living in Norway but will return to the UK next year.
A waffle and ramble I know but I just had to write something and send it in!!! Thanks for stirring up many happy memories
---
Richard Marshall writes
I am writing with regard to the Rusthall FC under 7's football team, who my son Harry plays for, and who are desperately looking for a new sponsor for the 2011/12 season (by which time they will be the under 8's team).
The current sponsor (Gleeds) will no longer be sponsoring the team as of the end of this season, and I wondered if you might be able to offer some publicity on your website to assist our plight. Without a sponsor for the next season the team will not have a football kit to play in.
Ideally a local business from the Rusthall area would be the perfect sponsor. The total amount to sponsor for the season is around £800.
Any help or advice would be much appreciated.
Kind regards
Richard Marshall
---
Former Rusthall resident Mick Bean writes:
I'm now a once in a blue moon visitor to my home village of Rusthall. I thought I would write a few lines rescaling a few childhood memories. Perhaps others could do the same ?
Rusthall when I was a little boy stopped where the raspberry/blackberry bushes and stinging nettles started. A barbed wire fence marked the boundary between village life and nature.
Nellington Lane ran alongside the field before turning sharply right, down past the cemetery and onward to the more outlying villages.
Little could I have known then that this wonderful field full of grasses, bushes, trees and wildlife would one day become yet another concrete slab helping house the 1970s population explosion.
Nellington lane survives but is no longer the winding country road, more a short cut for speeding taxis carrying fares from middle class housing estates to the busy commuter belt railway station in the local town.
The lane, once lined with green hedges and buttercups, now show scars of skidding car tyres and wing mirror damage along an oily polluted hedgerow. Pheasants no longer roam the lane safely; bird's nests that once littered the nearby trees have gone and bird song has been replaced by the never ending drone of the motor-car.
The first thing I noticed as a young boy when walking past the Church hall into the village was the smell of fresh baked bread from the bakery near the Morning Star pub. The rickety old green van with its back doors open displayed rows upon rows of cakes, loaves and bread rolls on wooded slats ready for the morning delivery.
I could walk the length of the high street and never see traffic. The 81 bus turned around at the end of the village where the fields began before making its way back to TW. Most of the locals used the bus service; cars were a rarity and only used by the wealthy few.
The bus route back to town would take you past the marl pit then onto Sandy bank (top of Bretland Road) before reaching the Toad Rock bus stop. By that time the bus would usually be full before continuing on past Dingly Dell, the Spa Hotel and onward down Major York's road to the Pantiles.
As well as the bread van you could well see the coal lorry, milk floats, one man dust carts, the fish van, the rag-and-bone man, the swill-man (collecting spud for his pigs) and once every few months a man of the road (tramp) would walk through the village singing and whistling with cap in hand hoping for a few pennies from the more well off folk in the village. A twice a year visitor to the village would be the knife sharpener-man, he would up-end his bicycle in the middle of the road and spin the rear wheel which had a sharpening stone attached. He charged one shilling (1/-) for all the knives you could carry to him and one and a tanner (1/6) for sharpening garden tools like shears or mowers.
Over to you lot...............
Mick Bean
February 2011
---
My name is Chris Taylor from the USA. My mother Patricia Taylor (nee Hollamby) was born, and raised @ 61 Woodside Rd. Her parents were Vi & Harry Hollamby, and her brother, Richard, who still lives in Rusthall. They also lived on Erskine Park Rd.
Pat has lived in the US (New Jersey) since 1961. She frequently comes back home to visit including a trip planned later this year. She was married @ St. Paul's Church in 1954, and remembers being on Rusthall Common the day WW II started in 1939. She has many fond memories of growing up in Denny Bottom.
I have been fortunate to visit many times since I was a baby. My father grew up in Tunbridge Wells (Camden Rd. , and later Dunstan Rd.) I remember Happy Valley, the working man's club (St. Paul St.?), and of course walks w/my grandfather to the Toad Rock. Some of the shops might have changed a bit, but it all looks pretty much the same otherwise. As a kid I liked the 'Paper Shop' as it was called to buy a copy of the "Beano" comic book, and eat some 'Penguins'. lol
Rusthall, and the English countryside of Kent & Sussex are simply some of the most beautiful places ever put on Earth.
Cheers,
Chris Taylor of Cherry Hill, NJ USA
28 July 2010
---
Next come a couple of letters Carol Lawrence has written to Courier editor Ian Read concerning the parishing of Rusthall. She appeals to everyone else with an opinion also to write into the paper with their views.
25 Common View Rusthall TN4 8RG
01892 528273 / 07999 850 699
19 July 2010
Dear Mr Read
As the deadline of 31 July approaches for contributions to the open consultation run by the borough concerning the formation of a Rusthall Parish Council, I would like to share with your readers "Reasons to be Cheerful" about the prospect.
The whole point of a Parish Council is to improve the life of people living in Rusthall; it will give us more control over village matters, where we will foster our own distinct voice.
A more equitable distribution of council tax money would come back to Rusthall, to be spent on improving our own facilities here.
Rusthallians, with the benefit of a part-time paid parish clerk, will have deeper opportunities to work with borough and county, in order to protect and improve the unique place where we live.
More consultation forms are available from the Village Association stall at the Rusthall Fete this Saturday 24th July.
Yours sincerely
Carol Lawrence
Resident
---
25 Common View Rusthall Kent TN4 8RG
6 June 2010
Dear Mr Read
I write to you to express my excitement about the prospect of Rusthall gaining its own parish area council.
I used to think parish councils were something only concerning churches. The only action I had seen of a parish council was on the BBC comedy "The Vicar of Dibley." (I did however discover that the show doesn't portray reality).
In the last few years I have sat in on several parish council meetings both in Speldhurst and also in Essex, as a member of the public.
What I have learned from these meetings is that parish councils are a fine example of the extension of our country's democracy at a micro level; they have been proven to work very efficiently and are supported professionally by qualified clerks. They complement the work done by borough councillors and effectively amplify a village voice at very modest cost.
This year I heard speaking on the radio Mr Eric Pickles MP, Chair of the Conservative Party, championing the value of parish councils in both rural and urban areas.
Recent calculations made by TWBC show that a Rusthall Parish Council would mean a lower overall council tax bill to Rusthall residents and businesses, whilst (remarkably) freeing up more finances to spend on Rusthall amenities, and even opening up more avenues to apply for grants.
I appeal to all Rusthall residents and business people to immediately RSVP their invitations to a public meeting, organised by the borough at the URC Hall in the High Street on Wednesday 30 June at 7pm, which will present in more detail what a Rusthall Parish Council would involve. (Call Nicola Timms on 554106 at the Town Hall).
A consultation document from the borough has been sent to all addresses in the area asking for comments, and has to be returned by the end of July. If you have mislaid your form and reply paid envelope please go to the TWBC borough website or give them a call.
Alternatively, forms will be available at the next Rusthall Village Association meeting at the Rusthall Club 7.30pm on Thursday 22 July. Always a lively and friendly meeting. No surprise - full of people from Rusthall!
Kind regards
Carol Lawrence
---
1/11/2009
Rusthall is a vibrant, lively village with a kind heart.
This website is a brilliant idea, thanks to all who suggested it, planned it and produced it.
June Moore (Third generation resident).
---
31/10/2009
The new web site looks fresh and appealing, well done.
A Rusthall resident for some 25 years (I live in Westwood Road) I have watched with dismay as the traffic through the village makes movement increasingly difficult and dangerous. Surely there is a case for limited parking on one side of the High Street only? If we lived in an ideal world I would have car parking on the field behind Common View and a one way system from the High Street up and down to the Red Lion. The tree by the Red Lion should form the basis of a roundabout. Would it not be possible to find out using the web site if there is support for this sort of idea? Something will have to be done soon if the bus service is get through.
As I overlook the new play area I have been pleasantly surprised at the amount of use it gets since opening. I believe that Jenny Blackburn was instrumental in getting this now valuable facility built and should feel proud of a good job done. Pessimists like myself were saying that it would be wrecked within weeks. How pleased I am to have been proved wrong.
Regards
John Goodall
Editor's comment: The parking suggestion was raised at an RVA meeting once and someone pointed out that traffic congestion in the High Street is actually a useful calming measure, preventing speeding and making it easier for pedestrians to cross the road, especially with a bus ploughing its way through every 20 minutes or so!
---