Rusthall: A Picture Tells All 2019
THE COMPETITION IS NOW CLOSED
Winners judged by Gary Francis, picture editor of the Courier, will be announced at the RVA open meeting on Wednesday 18th September from 7.30 at the Rusthall club in St Paul's Street
See foot of the page for competition details
Happy Valley August 2019 Natalie Hyder
Sunset over Ashley Park Natalie Hyder
Milo and the Colours of Autumn at Rusthall Playing Fields
By Gavin Palfrey
Turneresque Sunset over Common View
By Gavin Palfrey
A garden by Rusthall Medical Centre
By Nikita Hope
St Paul's Street
By Nikita Hope
Edward Street
By Nikita Hope
Sunset Over Rusthall
By Nikita Hope
Legends of the Rocks
By Ana Maria Teubler
Red Lion Pub at Dusk
By Anna Hayes
Evening Sun on Field at Home in Lower Green Road
By Anna Hayes
Sunset in Field Near Peacock Farm
By Anna Hayes
Rusthall High Street at Sunset
May 2019
By Jenni Mathews
My Daughter and Friends Under the Blossom at Mary Caley Park
April 2019
By Jenni Mathews
View from Rusthall Cricket Club at Sunrise
February 2019
By Jenni Mathews
My Daughter Playing on the Common at New Year
By Jenni Mathews
A Walk Through the Woods
February 2019
By Jenni Mathews
Faces in the Rocks
by Sue White
Legends of the Rocks IV
by Sue White
Stone People - Legends of the Rocks V
by Sue White
Legends of the Rocks III
by Allan 'Jif' Peters
Legends of the Rocks II
by Allan 'Jif' Peters
Legends of the Rocks I
by Nigel Suckling
Bull's Hollow
Autumn 2018
by Mike Ledingham
On the Rocks at Denny Bottom
July 2019
by Elizabeth Ellicott
Bee on Thyme
Southwood Rd Allotments July 2019
by Elizabeth Ellicott
Autumn Bounty
Rusthall Common, October 2018
by Elizabeth Ellicott
Bullrushes at Marl Pit Pond
by Elizabeth Ellicott
Autumn Bracken
Happy Valley October 2018
by Elizabeth Ellicott
Prickly Guest
by Alex Britcher-Allen
Dressing the Toad
July 2019
by Nigel Suckling
Battle of the Bands
Rusthall Fete 2019
by Nigel Suckling
June Evening in Harmony Street
by Viv Hughes
Under 16s
Steps on the Common I
Ben Neal (Age 14)
Happy Valley
Ben Neal (Age 14)
Steps on the Common II
Ben Neal (Age 14)
Cricket Pitch
Ben Neal (Age 14)
Tarry Path
Ben Neal (Age 14)
Shadwell Woods I
By Felicity Mathews (Age 5)
Shadwell Woods II
By Felicity Mathews (Age 5)
Pick and Mix at the Venture
By Evie Brown (Age 11)
The 281
By Evie Brown (Age 11)
The Book Shelf at the Hospice Shop
By Evie Brown (Age 11)
View of the Oak From the Hospice Shop on a Rainy Day
By Evie Brown (Age 11)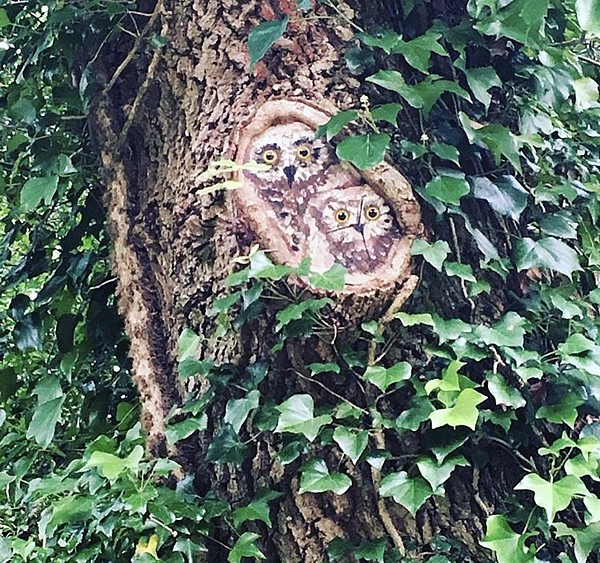 Owls on Rusthall Common
By Elena Teubler (aged 10)
Freedom in Nellington Woods
May 2019
By Connor Nabbs, age 8

Monster Slug in Nellington Road
August 2019
By Robbie Nabbs, age 6
Autumn Morning in Rusthall
by Grace-Marie Smith (Age 13)
Rusthall Photographic Competition
WHAT IS IT?
A photographic competition entitled 'Rusthall: A Picture Tells All' which is being run by the Rusthall Village Association and is intended to be an opportunity for people to send in up to 5 images of what Rusthall means to them today. There is no restriction as to what or where in the village the photographs are taken (all pictures will be vetted prior to publication for common decency and appropriateness for an all-age audience). They can be of people, places, animals, buildings, landscapes, wildlife, events etc.
WHO CAN ENTER?
Anyone can enter the competition. The only rules are that the photos must have been taken in or of Rusthall, and they must have been taken within the past year. There are two categories:
1) for 16 year olds and under
2) over 16 year olds
HOW CAN I ENTER THE COMPETITION?
Simply send in your photograph to our website manager Nigel Suckling nigel.R.suckling@gmail.com with your name, contact number, email, age (if under 16) and where and when the photograph was taken.
Alternatively you can post a print with all your details to Alex Britcher at 1 Manor Road which runs beside the first One Stop in Rusthall High Street.
WHAT WILL HAPPEN TO MY PHOTOGRAPH?
The photographs will be displayed here on the website showing the name of the entrant, title of the photo and, if less than 16, the age of the entrant. A copy of the photographs will then be held on file at Rusthall Library as an historical document and may be used elsewhere (as in local magazines) at the discretion of the RVA
HOW LONG DOES THE COMPETITION RUN FOR?
The competition will run from July - 1st September 2019
WILL THERE BE WINNERS AND WHO DOES THE JUDGING?
Yes, there will be 1 winner and 3 runners up from each of the two categories. The photographic editor from the Courier will be judging the competition
WHAT HAPPENS IF I WIN AND HOW WILL I KNOW?
Winners will have their pictures printed in the Kent and Sussex Courier and will also win a prize - £50 cash prize for the winner of the adult category and prizes for 3 runners up; £40 cash for the under 16 winner and prizes for 3 runners up. Winners will be contacted via telephone or email and a prize-giving ceremony will be held at the Rusthall Village Association meeting on Wednesday 18th September 2019

Competition supported by Rusthall Parish Council